Sales
The segment introduces itself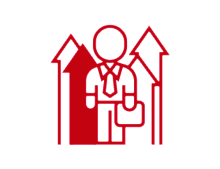 "Energy is a fundamental asset in each and every business. For this reason, it is all the more exciting to work with our customers and analyse the needs and requirements of their company in order to find the ideal solution."


Karl Borowy
Head of Sales Austria
"The key account manager is in charge of everything from lead generation to offer submission and customer care. So it encompasses the entire sales process chain"

Matthias Kisslinger
Head of Sales Germany
What training/education is ideal to work in Sales?
Economic and technical understanding, as well as entrepreneurial thinking would be ideal for our business segment. Key account managers should already offer several years of experience in sales.
What qualities are of particular interest for the job?
Professional appearance and strong communication skills are the very basics but we also value entrepreneurial thinking,
What does our everyday work look like?
Working in Sales is highly diverse. Sales employees are in charge of establishing and further developing their own customer base. For this reason, they benefit from the necessary balance between office work and personal customer contact.
Where do we frequently work with other business segments?
We work closely together with Portfolio Management and Legal. The closest ties we maintain are to Customer Management because managing our customers is a joint endeavour. Of course we also work together with Sales Management, Procurement and Accounting.