EAA-Group
Group with structure
The EAA Group is the joint energy sales and trading company of BURGENLAND ENERGIE, EVN ENERGIE-SERVICES and WIEN ENERGIE. As the largest energy sales enterprise in Austria, EAA supplies 2.9 million customers – from private households to businesses and industrial facilities – with electricity, natural gas, and energy-related services both in Austria and abroad.
Moreover, EAA Energy Trading not only forms the central interface between production, sales, and the wholesale market, but has also become one of the leading trading companies in Austria.
The ownership structure of EAA is distributed among our partners BURGENLAND ENERGIE AG, EVN ENERGIE-SERVICES GMBH and WIEN ENERGIE GMBH as follows: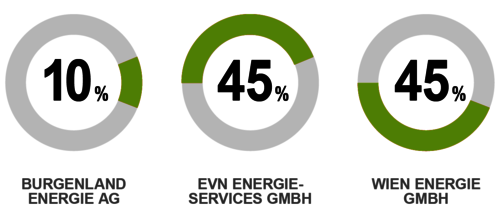 ENERGIEALLIANZ Austria is the leading energy sales and trading companies in Central Europe. This position is confirmed by the key figures of ENERGIEALLIANZ Austria. The message is clear: 2,9 million Private Households and Business Customers, more than 121,000 Industrial and Key Account Facilities as well as over 104 TWh of traded energy volume.
CUSTOMER
FACILITIES
ELECTRICITY
SALES
NATURAL GAS
SALES

REVENUE
ELECTRICITY
TRADING
NATURAL GAS
TRADING
CO2 CERTIFICATE
TRADING
GUARANTEES
OF ORIGIN
The companies of the EAA Group have been conducting business along the entire value chain for many years – a business model that has proven successful in the energy industry. ENERGIEALLIANZ Austria rigorously implemented its integrated approach and offers electricity, natural gas, trading operations, and services from a single source. The close cooperation between the partner companies makes it possible for EAA to be present at all levels of the value chain.