Electricity and gas offers
Products for your individual needs
Whether you are an industrial enterprise, a corporate group with numerous branches and points of consumption, or a commercial operation: today's business customers have very specific energy supply needs and requirements. We have just the right energy product for your individual level of energy consumption, purchasing characteristics, and risk tolerance. Our electricity and gas product offers are based on a clear and transparent model system. Choose from fixed-price, tranche, portfolio and spot price models, and combine them with our additional options and services.
Characteristics of EAA products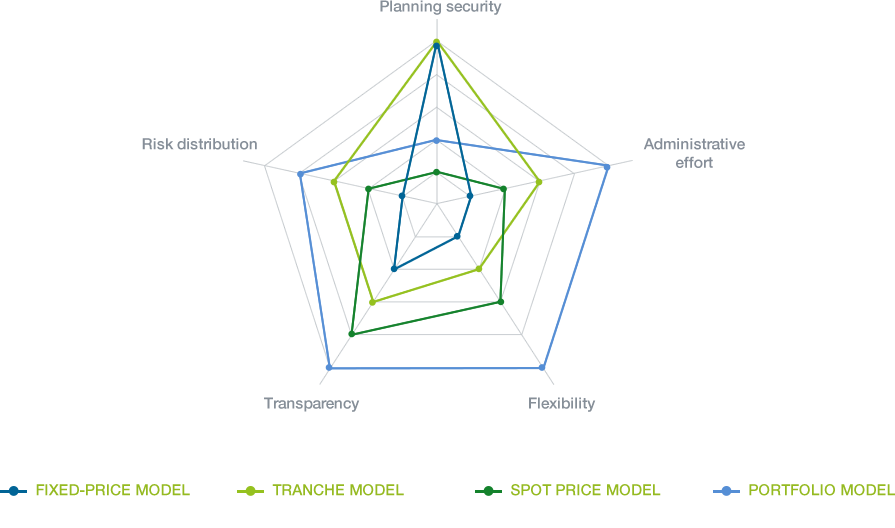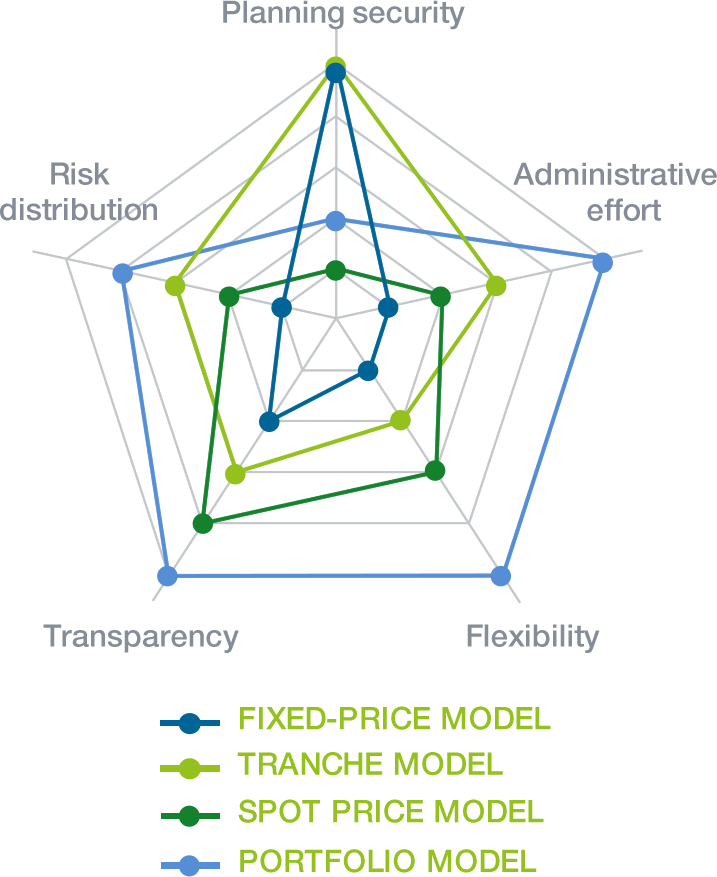 Classic fixed-price models provide customers ranging from commercial operations to medium-sized industrial enterprises with high planning security at low administrative effort. Choose one of our transparent fixed-price models and benefit from advantages in the fields of planning security, budget management, and reliable energy controlling.

We offer:
Fixed prices throughout the entire term of the contract
Minimum effort in energy procurement
Simple and transparent pricing
High planning security in budgeting
Guarantee of current market price levels
Electricity Products:
The flexible solutions of our tranche models enable companies to take advantage of an extensive range of market opportunities at manageable risk. They can actively participate in energy procurement and swiftly react to individual price developments. When coosing one of our tranche models, you commission our purchasing experts to procure your energy needs at different times.

We offer:
Risk distribution based on multiple procurement times
Participation in ENERGIEALLIANZ Austria fund management
Expert know-how in procurement
Transparency in electricity procurement systematics
Electricity Products:
EAA-TRANCHEN
EAA-OPTING IN
Choose our spot price models and benefit from our market experience as well as stock exchange developments. You may decide to cap your remaining quantities and obtain a fixed price in the course of supply. This product allows customers with low energy needs to still benefit from the spot market.

We offer:
Uncomplicated product combinations at the futures and spot market
Transparent pricing
Risk distribution between futures and spot market
High flexibility
Freedom of choice to cap open quantities in supply period
No excess/shortage clause
Electricity products:
EAA-SPOT
EAA-TRANCHEN SPOT
Our portfolio models provide you as the customer with every freedom to meet your energy needs based on individual market products. We act as your service provider for the settlement and offer both advice and assistance.
You receive all the necessary market information on energy prices. We inform you about the settlement prices on the EEX on a daily basis and send you a comprehensive weekly market report on key price developments.
We offer:
Portfolio pricing according to your instructions
Portfolio breakdown into standardised base and peak products
Maximum transparency and proximity to the wholesale market (EEX)
Coordination and adjustment of the projected annual quantity
Coverage of energy requirements by means of individual market products
Consideration of control energy assigned to the customer
Electricity Products:
We offer an extensive range of services for the short-term, physical electricity market. We take care of placing your bids and process the complex settlement of intraday trading. We are always at your side and consult you on all questions of intraday trading.
The marketing of control energy has become increasingly important due to the expansion of the renewable energy segment in recent years. The relocation of production and consumption capacities makes it possible to generate added value by exploiting price differences in wholesale markets. We offer consulting in all questions related to control energy marketing.