Sales Management
The segment introduces itself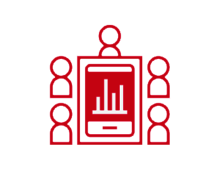 "Sales Management serves as the interface between Trading and Sales. The spectrum of tasks and responsibilities in Sales Management is broad and diverse: sales control, product management and energy efficiency, sales and forecast management and quality and application management."

Gabriele Maderbacher-Brock
Head of Sales Management
What training/education is ideal to work in Sales Management?
Your training should focus on the following areas: economics, product and energy management, engineering, computer science, business intelligence and automation.
What qualities are of particular interest for the job?
Team spirit, customer and service orientation, communication skills, consulting competence, creativity and innovation, analytical thinking and a clear focus on results
What does our everyday work look like?
Working in Sales Management means constantly switching from team to individual work and from customer contact to working with service providers. Aside from a fair share of strategic and operational tasks, we also work on innovation and marketing trends, the development of products and services.
Where do we frequently work with other business segments?
Sales Management serves as the interface between Trading and Sales. We closely cooperate with Portfolio Management, Procurement, experts in Trading, key account sales and Customer Management.