Norbert Stummer
about EAA as an employer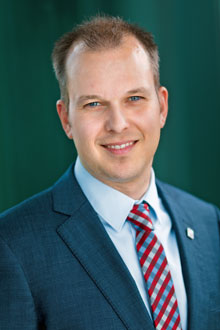 Key Account Manager
with EAA since 2001
Your tasks and responsibilities are constantly changing. Why is that?
The energy market and its legal framework are changing all the time. Our systems and work routines are continuously adjusted to simply follow suit. Working in Sales, I am always confronted with new situations and enjoy this guaranteed variety in our line of business.
Why did you choose EnergieAllianz to become your next employer? How would you characterise EAA?
It was important to me to work for a safe company with great development opportunities. This is precisely what I found in EAA. Here employees and customers are actually able to develop a long-time and cooperative partnership.
Why do you like working here?
Every single day I draw motivation from all the variety at work, the opportunities to put forward your own ideas and suggestions, getting to work with many different people, and the friendly atmosphere among employees. Working in a family environment, I am able to establish and maintain friendly relationships with my customers and colleagues.