Trading
The segment introduces itself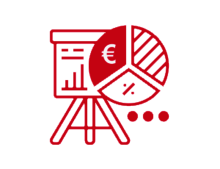 "We focus on the EAA core markets Austria and Germany. One of our most important tasks is the optimal procurement of energy volumes as required by our customers. As an energy sales company with many years of experience, we have excellent access to the relevant energy markets."


Stefan Gappmayer
Head of Trading
What training/education is ideal to work in Trading?
Our employees ideally offer either a technical or economic education at university level. Moreover, they also need to generally have good IT skills, a high affinity to data and numbers as well as programming know-how.
What qualities are of particular interest for the job?
You have come to the right place if you are flexible, resilient, curious and have a healthy self-perception.
What does our everyday work look like?
Trading is all about stock exchange opening hours, auctions and nomination deadlines. The commodities traded by EAA react significantly to weather changes in the short-term as well as to geopolitical and monetary policy decisions in the medium and long term. For this reason, one of the integral elements of our everyday work is the gathering, monitoring, evaluating and interpreting of lots of data.
Where do we frequently work with other business segments?
We frequently work with Information Systems, Portfolio Management|R&A, Finance and Risk Management as well as HR|Legal|Compliance.