Balancing Group Accounting
The segment introduces itself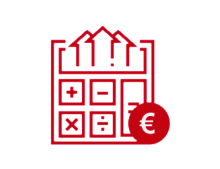 "Balancing Group Accounting is specific to the energy industry. Our active management of consumption deviations and our analytical models of consumption forecasting enable our customers to benefit from savings. As a balance responsible party, we manage one of Austria's largest balancing groups."


Robert Luttenberger
Head of Finance and Risk management
What training/education is ideal to work in Balancing Group Accounting?
Basic commercial training combined with a high affinity for energy-related issues would be the ideal foundation for our job. We are also always on the lookout for technically trained employees with a keen interest for commercial contexts.
What qualities are of particular interest for the job?
Our work is particularly concerned with facts and figures. Aside from getting work done on time, we especially value precision. Team players are just as welcome as anyone interested in professional development with a affinity for IT issues and structured working.

What does our everyday work look like?
We regularly need to coordinate with colleagues on jointly implemented activities or scheduled work and attend meetings on development and innovation.
Where do we frequently work with other business segments?
Trading, Accounting, Controlling and IT are the business segments we regularly work with. Moreover, we always keep in touch with affiliated companies and trading partners as well as with balance group members and other balance responsible parties.