Portfolio Management/R&A
The segment introduces itself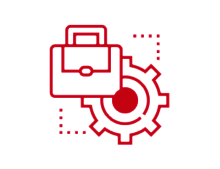 "Portfolio Management serves as the interface between Trading and Sales. We are in charge of our customer portfolio, meaning the entire energy capacity(gas and electricity). Research & Analysis studies how we can forecast system changes."


Christian Grafendofertk
Head of Portfolio Management/R&A
What training/education is ideal to work in Portfolio Management/R&A?
Academic training in engineering/business would be ideal for our business segment.
What qualities are of particular interest for the job?
You have come to the right place if you have excellent analytical skills and understanding of mathematics, are eager to learn, show great commitment and like to work in teams with others.
What does our everyday work look like?
No two days are ever the same with us. We pay special attention to independent work and switch between individual and teamwork styles.
Where do we frequently work with other business segments?
As our tasks and responsibilities are quite diverse, we basically work together with almost all business segments, of course first and foremost with Sales.