ENERGIEALLIANZ Austria
Company with character
ENERGIEALLIANZ Austria is the leading provider of energy solutions for key account and industrial customers in Austria and Germany as well as a trading partner in all important European markets.
Headquartered in Vienna, the company supplies electricity, natural gas and energy-related services to about 120.000 customer facilities in the segment of key account, industrial and business customers. ENERGIEALLIANZ Austria trades in electricity, natural gas, CO2 certificates and guarantees of origin all across Europe.
The company conducts business with sales offices in Austria and Germany. Aside from trading in Austria and Germany, EAA is also represented in the Netherlands, Hungary, the Czech Republic, Slovenia, and Serbia. Its approximately 170 employees recently generated annual sales of EUR 2.3 billion.
Energy solutions from a single source
EAA is your competent partner for individual products and services. Even the most unusual energy solutions will not stop us. Our portfolio is divided into electricity and gas products and energy-related services.
From the perspective of our customers, we are a partner who takes care of everything and always finds the best solution – a key advantage particularly for companies with international production operations.

FIXED PRICE MODELS
TRANCHE MODELS
PORTFOLIO MODELS
SPOT PRICE MODELS
INTRADAY TRADING
BALANCING MARKETING

ENERGY AUDITS
MARKET REPORTS
DIGITAL BILLING SOLUTIONS
Corporate Mission Statement
Our corporate mission statement, consisting of the Vision, Mission and Guiding Principles, describes the basic principles underlying ENERGIEALLIANZ Austria.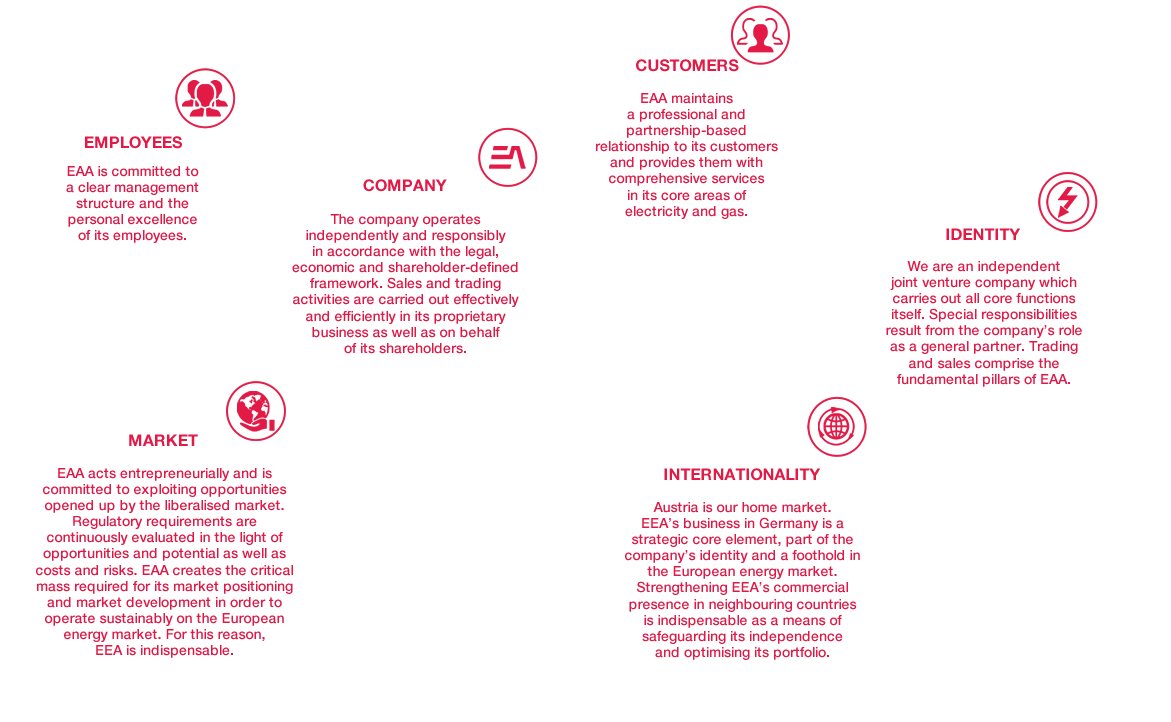 As a results-oriented company, we want to be the largest energy distributor in Austria with a strong European focus generating increases in sales and trading volumes both in Austria and internationally.
We aim to be an attractive and reliable employer for our employees by sustainably and successfully helping to shape the future of the energy sector on the basis of our actions.
We increase our market share within and outside of our home markets of Vienna, Lower Austria and Burgenland.
We aggressively and sustainably develop our business operations on the German market.
We continually adjust our commercial activities to changing market conditions.
Our claim is to fulfil the highest industry standards in processing and service.
We want to design a portfolio tailored to every customer requirement in cooperation with the regional sales companies.