INVESTMENTS
More successful together
The EAA Group is composed of the following companies:

- ENERGIEALLIANZ Austria GmbH
- SWITCH Energievertriebsgesellschaft m.b.H.
- NATURKRAFT Energievertriebsgesellschaft m.b.H.
- ENERGIE BURGENLAND Vertrieb GmbH & Co KG
- EVN Energievertrieb & Co KG
- WIEN ENERGIE Vertrieb GmbH & Co KG
Within the EAA Group, EAA itself is in charge of the sales and trading of electricity, natural gas, and energy-related services for industrial, large and business customers. EAA successfully established the subsidiaries switch and NATURKRAFT in the market to ensure targeted, supra-regional customer contact both in the private and business segment.
The regional sales divisions possess the operational core competence in the private and mass customer segment and assume responsibility for managing the home markets Vienna, Lower Austria, and Burgenland.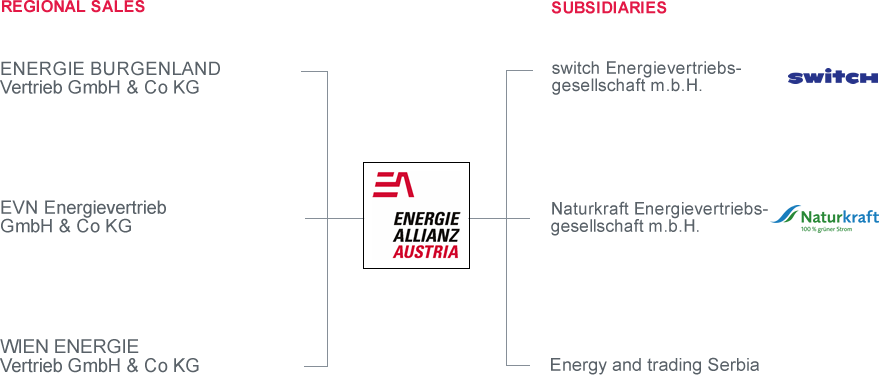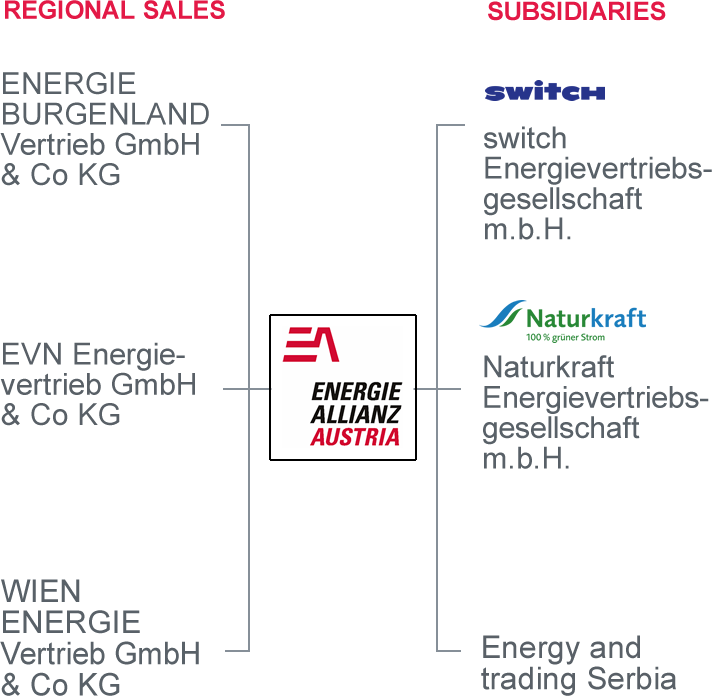 switch Energievertriebsgesellschaft m.b.H. has been successful in the Austrian and German energy markets as a leading alternative energy supplier for more than 17 years. Switch has been able to convince more than 100,000 satisfied electricity and gas customers of its products and services by reducing its portfolio to the essential: NOTHING BUT ENERGY. This makes Switch the right choice for all customers who appreciate simple and affordable solutions. The company received top ratings in various consumer tests and was awarded the title of Austria's best energy provider multiple times. Switch recently generated annual sales of approximately EUR 60 million. More information on products and prices at www.switch.at
NATURKRAFT Energievertriebgesellschaft m.b.H. is the green electricity sales expert within the EAA Group and has been supplying eco-conscious customers with green power from Austria since 2001. NATURKRAFT mostly focuses on private and business customers yet also provides electrical energy from renewable sources to important key account customers. In March 2008, NATURKRAFT was awarded the Austrian Ecolabel and has been authorised to use this prestigious distinction for the entire range of NaturStrom (NaturElectricity) products ever since. More information on products and prices at www.naturkraft.at
Energy and Trading Serbia D.o.o.
Aside from business operations in Austria and Germany, EAA also expanded its trading activities to Central, Eastern and Southeastern Europe. EAA has been represented in Serbia with a separate trading subsidiary since 2008.